A Pristine Paradise At
The End Of The Rainbow
June is a wonderful month in Echo Valley with long days and short nights. While our valley does not see a lot of rain in general, the conditions for magnificent thunderstorms are often favourable in June, due to our unique geographic location. The ranch is situated between the Chilcotin Mountains in the distance to the west and the Marble Mountains to the east, and only 30 minutes from the desert formation of the Fraser Canyon, to the west.
The dry desert landscapes of the so-called Grand Canyon of the North are due to the prevailing wind patterns and the enclosing effect of the surrounding mountains. It's one reason we don't see a lot of rain in Echo Valley, and it's also the reason we see those exciting thunderstorms in the early summer months.
Thunder Brings Rain And
Rain Brings Rainbows
Thunder usually means rain, rain sometimes brings rainbows, and Echo Valley enjoys more rainbows than you can shake a stick at. We think that Echo Valley may be the rainbow capital of the entire world.
Certainly in early summer, our guests are treated to spectacular displays of vibrant colour after a storm and double rainbows – a rarity in the rest of the world – are often on display between the ranch and the Marble Mountains.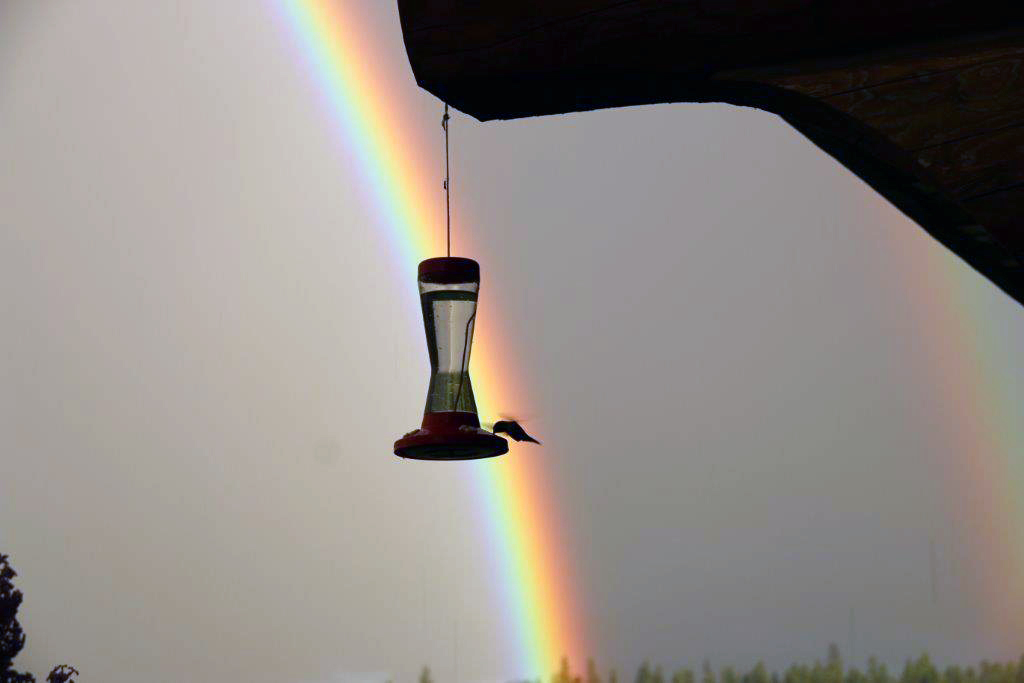 Rainbows and
Godbeams
As summer rolls slowly along the chance of seeing a rainbow in Echo Valley diminishes. Still, thanks to the unique convergence of desert, mountains, grasslands, and forest, Echo Valley Ranch & Spa is perfectly situated to remain both fairly dry and also enjoy any rainbow that may occur.
Whether it's the rainbows, sunsets, sunrises, or views of the glorious Chilcotin Mountains in the distance, Echo Valley remains one of the most photogenic regions in the world and worth a visit in the Spring, Summer, and Fall. From rainbows to godbeams cascading down from the sky, there is no shortage of visual beauty at this unique geographic location.